Events

Events & Parties

Looking for something amazing to do with a group?
We got you covered. Email us today at thewoodjointnj@gmail.com and we'll create a fun-filled project tailored to your special occasion.
———————————————————————————————–
Shop Talk

We love woodworking. If you do too, then this is the perfect event for you. Shop Talk is our FREE lecture series highlighting different woodworking techniques. Each lecture will feature tips and tricks for a particular skill that you can take with you and apply to your own projects. Bring yourself, and a friend. Why not? It's free.
All Things Square
Presenter: Bruce Hogan
May 7th 6-8pm

Max: 15 people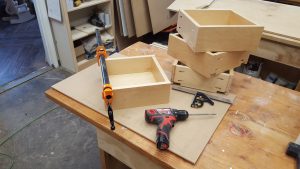 Measure twice, cut once, and be sure to check your diagonals. For this shop talk, presenter Bruce Hogan will take you through key techniques to help you square up your projects. You'll learn tips to keep your stock nice and plumb through the cutting process and discover why clamping is a bit of a science.
Email us at thewoodjointnj@gmail.com to reserve your spot.
———————————————————————————————–