About Us
Bruce Hogan
Founder, and Lead Instructor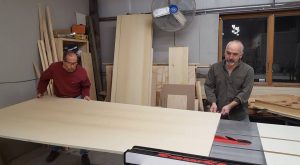 In the 70's, in Southern California, while Bruce Hogan was in High School, he worked with his father building a boat in the family's back yard. Bruce's father also had a full woodshop in the family garage and while his father's interest was as a hobbyist, Bruce fell in love with working wood. After High School, he attended a trade college in Los Angeles where he earned an associate degree in Cabinetmaking and Millwork. The program provided the foundation for his teaching career and advanced woodworking skills in both traditional and contemporary furniture design.
Upon graduating, Bruce apprenticed with a local boat builder. Here he would further develop his knowledge and woodworking skills. He built wooden boats including trimarans, cold molded steam launches, strip- planked boats and even lapstrake boats. Simultaneously, Bruce integrated these specialized skills into his cabinetmaking and furniture design.
In the late 80's Bruce made his way over to the east coast. Having developed a deeper love, knowledge and feel for the wood; how it moves, shifts, shapes and breathes, Bruce went on to apply his skill and creativity to the art of his furniture designs and work. While continuing to design and build furniture, Bruce felt a yearning to share his experience, knowledge, love of the trade, and expertise with other enthusiasts. In 2009, Bruce started teaching a Woodworking night class. Interest in the course grew rather quickly and he began to dream of having his own school where he could create an even greater learning experience for his students. Hence, The Wood Joint was born.
And in speaking of his love of teaching:
"When you see a student starting to learn and beginning to understand, realizing how they can translate their ideas into a physical form. That is priceless. At the same time, you can see the students own self-confidence transform! The fact that I can be a small part of that is the greatest reward in teaching."