Classes are ALWAYS in session…
And here at The Wood Joint, that's just how we like it!
It's cool to learn new things, especially when those things involve tools and machinery 🙂
Kick off the school year right and check out these chances to up your woodworking skills.
Woodworking: Chair
Starting August 29th at 7pm
You might want to sit for this one, but you'll have to wait 10 weeks. For this Woodworking Class we're building and designing a CHAIR!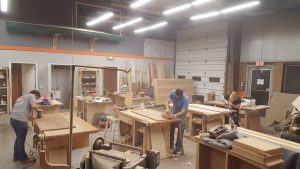 There's still room in the class but if you can't make it, follow us on Facebook for all the details.
FREE!!! Shop Talk
Be sure to carve out some time in your schedule for our FREE Shop Talk on Woodcarving Basics where our guest presenter will give you tips and tricks to help you get started.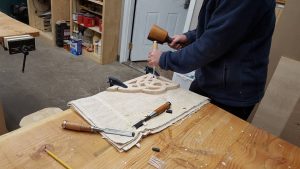 It's all going down September 15th at 9am-11am.
See our events page for more details.
Trade School: Fundamentals of Cabinetry
September 21st-September 23rd
One Weekend, one cabinet, SO MANY SKILLS! That's right, we're bringing back our Fundamentals of Cabinetry class for another jam-packed weekend session. From face frames to cabinet carcasses, you'll build it all.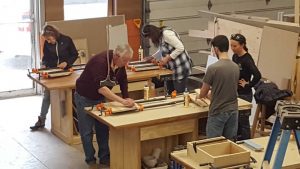 Go to our class schedule to sign up today.
The promise of cool weather, and even COOLER classes, Fall here we come!
From Your Friends at The Wood Joint