Greetings Woodworkers!
Temperatures are rising but there's always something cool going down at The Wood Joint.
The Ukulele Edition of our Kids Woodworking class finished up their projects on a high note.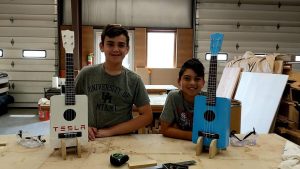 Be sure check out our Kid's Build and Learn Week coming up August 13th-17th. We'll build a little, learn a little, and have a ton of fun.
Round out your summer schedule with our FREE Shop Talk: Finish it! on August 18th at 9am-11am.
Presenter Jerry Fishlin will go through some tricks to achieving an amazing finish. Email us today at thewoodjoint@gmail.com to reserve your spot.
If that wasn't enough for you, here are some more classes heading your way.
Trade School
Decorative Accents
August 24th-26th
Woodworking
Project: Chair
Starting August 29th
Trade School
Fundamentals of Cabinetry
September 21st-23rd
Call us for more details or check out our schedule here!
From Your friends at The Wood Joint